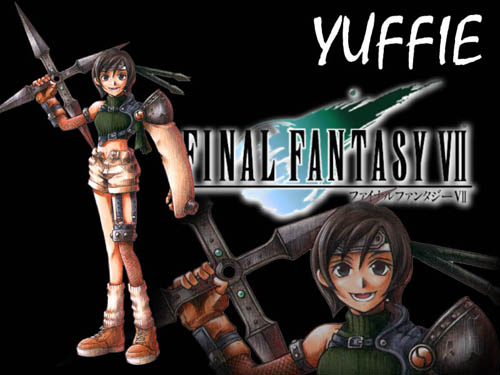 YUFFIE KISARAGI



A sneeky and somewhat selfish girl, Yuffie forced herself to join
AVALANCHE to get a "certain something" for herself. Despite her
arrogance and self-centred attitude, she is one of the best when it
comes to fighting. With her shuriken in hand, there isn't another
person you'd rather have on your side in a fight. She is 16 years
old, 160cm tall, and was born in Wutai on November 20th.
---
-------YUFFIE'S LIMIT BREAKS-------
1. LIMIT LEVEL ONE
Greased Lighting - Hits one enemy with a quick hit that causes a lot
of damage.
Clear Tranquil -Replenishes a small amount of HP onto the entire
party.
2. LIMIT LEVEL TWO
Landscaper - The ground rises up from the enemies and explodes.
Bloodfest - 10 deadly blows are given to the enemies. This is a
cumulative attack.
3. LIMIT LEVEL THREE
Gauntlet - A blue tornado beneath the ground rises to hit the
opponents. It causes a large amount of damage to all enemies on the
screen.
Doom of the Living - This is stronger than the Bloodfest and is
cumulative which makes the Gauntlet look pretty bad.
4. LIMIT LEVEL FOUR
All Creation - Go to the Pagoda of the Five Mighty Gods in Wutai,
after completing Yuffie's side quest. When you beat Godo, you get
the limit break manual.