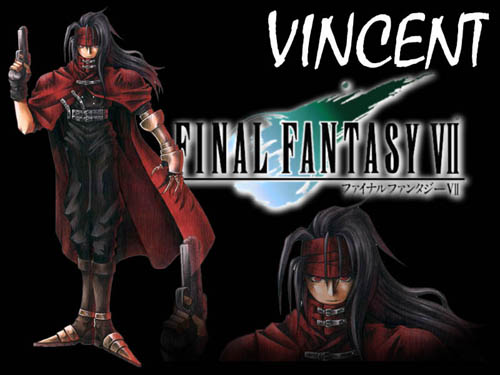 VINCENT VALENTINE



A mysterious and mysical man, Vincents past connections with Shinra
and his previous occupation as a Turk are what caused him to join
Cloud and the others on their journey. He may not look so tough, but
inside him lives a fearsome power. His quick wrist and accurate shot
proves to be a necessity in decisive battle. Oh yes, Vincent is cool,
you know it's true!!! 27 years old, 184cm and born on October 13th.
---
-------VINCENT'S LIMIT BREAKS-------
Vincent only has the first break's of each level, so only 4 in total.
1. LIMIT LEVEL ONE
Galian Beast - Vincent uses Beast Flare and Berserk Dance, both with
fire elemental attacks.
2. LIMIT LEVEL TWO
Death Gigas - Uses Gigadunk and Livewire, attacks with lightening
element and is strong against enemies with physical damage attacks.
3. LIMIT LEVEL THREE
Hellmasker - Splatter Combo and Nightmare, and is strong attacks
enemies with magic attacks.
4. LIMIT LEVEL FOUR
Chaos - To get his fourth level use the submarine you got and search for a secret tunnel underwater. This tunnel takes you to the cave under the waterfall. Remember the second time you fight Ultima Weapon (when you wanted to get Cloud's final sword) when he is floating above a circle of water which is surrounded by mountains. There is a cave you can go to inside the waterfall. This cave leads to Vincent's true love and Sephiroth's real mother Lucrecia. Talk to her and listen to her story, then leave and later on through the game, go back to the cave and Lucrecia is gone but has left you Vincent's final weapon and his final limit break "Chaos".