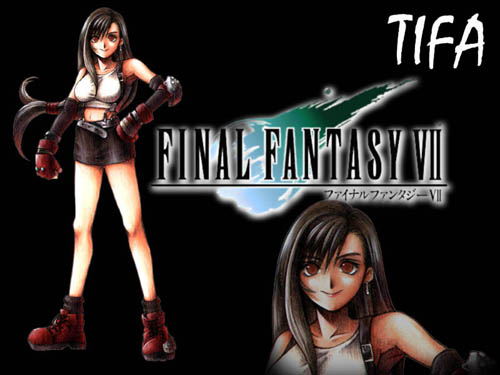 TIFA LOCKHEART



Tifa attacks with a 'glove', in other words punches and kicks. Bright
and optimistic, Tifa always cheers up the others when they're down.
But don't let her looks fool you, she can decimate almost any enemy
with her fists. She is one of the main members of AVALANCHE. She and
Cloud were childhood friends, and although she has strong feelings
for him, she would never admit it. 20 years old, 167cm tall, and born
in Nibelhiem on May 3rd.
---
-------TIFA'S LIMIT BREAKS-------
Tifa's Limit Breaks work like a slot machine, depending on where you
stop it, her attack will either hit normal damage (hit), hit heavy
damage (yeah!) or miss (miss).
1. LIMIT LEVEL ONE
Beat Rush - Attacks one opponent using a combo of punches
Somersault - Attacks one opponent with a flipping kick
2. LIMIT LEVEL TWO
Waterkick - Wave of water washes over an opponent
Meteodrive - Attacks and opponent by delivering a backdrop
3. LIMIT LEVEL THREE
Dolphin Blow - A dolphin delivers an uppercut
Meteor Strike - Attacks an opponent by grabbing an opponent and
jumping into the heavens before slamming them down to the ground.
4. LIMIT LEVEL FOUR
Final Heaven - Go to Nibelheim and enter Tifa's house. Go upstairs to
the room with the piano and play the tune located below. After
playing the tune, check the sheet music and you will receive Final
Heaven. You will need Tifa in your team.
Note Button
Do X
Re Square
Mi Triangle
Ti R1 and Triangle
La R1 and Square
Do X
Re Square
Mi Triangle
So R1 and X
Fa O
Do X
Re Square
Do X