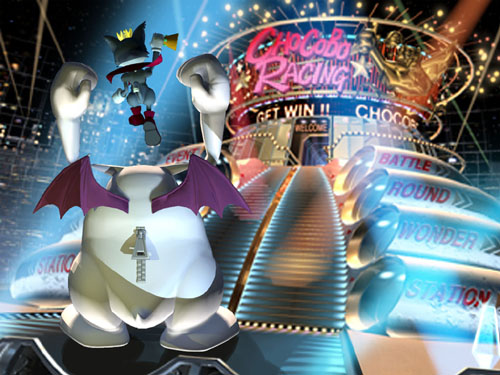 CAIT SITH



Cait Sith rides around on the back of a huge stuffed Mog he magically
brought to life. Megaphone in hand, he's always shouting orders and
creating dopey attacks. When his slot machine attack works, the enemy
lines look like an overturned toy box (Err, I do beg to differ....).
His hobby is fortune telling, but like his personality, it's pretty
unreliable. 100cm tall.
---
-------CAIT SITH'S LIMIT BREAKS-------
Cait Sith only has two Limit Breaks, Level One and Two.
1. LIMIT LEVEL ONE
Dice - Cait throws out several dice onto the playing field. This
takes the sum x 100 to get the total amount of damage to one enemy.
2. LIMIT LEVEL TWO
Slots - List of the possible outcomes:
3 Stars - Mog Dance - This restores the party's HP, MP, and all
negative status conditions.
3 Kings - Toy Soldier - Toy soldiers shoot at the enemies for a good
hit of damage.
3 Bars - Summon - A random summon spell in which you have already
used before.
3 Mogs - Transform - Cait transforms himself into one person with the
team-mates inside him with a combined effect of all 3 characters, but
HP and MP do not go past 9999 and 999.
3 Hearts - Lucky Girl - Party's Hit% is 100.
2 Cait Sith and 1 Bar - This kills your party to end the game, but
this doesn't happen often.
3 Cait Siths - You win the battle automatically.