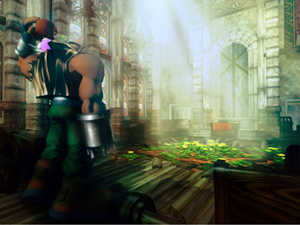 BARRET WALLACE



Head of the underground resistance movement, AVALANCHE, Barret is
fighting the mega-conglomerate Shinra, Inc. which has monopolized
Mako energy by building special reactors to suck it out of the
planet. Barret depends on brute strength and his "Gun-arm" to see him
through. His wife died in an accident several years ago, and he now
lives with his daughter Marlene. 35 years old, 197cm tall, and born
in North Corel on December 15th. Has the most annoying dialogue in
the entire game!!
---
-------BARRET'S LIMIT BREAKS-------
1. LIMIT LEVEL ONE
Big Shot - Attacks one opponent
Mindblow - Depletes one opponent's MP
2. LIMIT LEVEL TWO
Grenade Bomb - Attacks all opponents
Hammerblow - Sends opponent into orbit, and completely removes them
from combat. Doesn't work against bosses.
3. LIMIT LEVEL THREE
Satellite Beam - Satellite targets and damages all opponents
Ungarmax - Attacks all opponents
4. LIMIT LEVEL FOUR
Catastrophe - Talk to the woman in North Corel after the train crash.
After talking to her, she will hand over the Catastrophe manual.