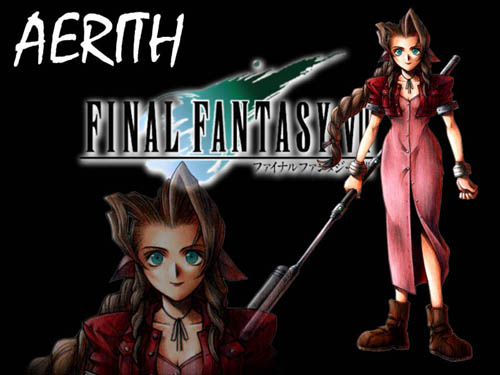 AERIS GAINSBOROUGH



Young, beautiful, and somewhat mysterious, Aeris met Cloud while
selling flowers on the streets of Midgar. She decided to join him
soon after. Her unusual abilities enable her to use magic, but she
seems much more interested in deepening the love triangle between
herself, Cloud, and Tifa. She uses a rod to attack her enemies, but
is a much more skilled magic user. 22 years old, 163cm and born on
February 7th.
---
-------AERIS'S LIMIT BREAKS------
1. LIMIT LEVEL ONE
Healing Wind - Restores the party's lost HP.
Seal Evil - Casts this spell on all enemies, causing them to stop and
be silenced.
2. LIMIT LEVEL TWO
Breath of the Earth - Cures the party of any status conditions.
Fury Brand - Gives the other characters a full limit bar.
3. LIMIT LEVEL THREE
Planet Protector - Aeris makes a barrier around the party that makes
them temporarily invincible
Pulse of Life - Cures the party of all status conditions, HP, and MP
4. LIMIT LEVEL FOUR
Great Gospel - Talk to the sleeping man near Midgar (see Side Quests)
When you have fought a number of battles that would have the last two
digits of the number the same. (88, 99, 100, 166....), he will give
you the piece of Mythril that can be exchanged for that limit break,
which is in a small box at the Weapon Seller near Gongaga.